Welcome to the Department of Christian Civilization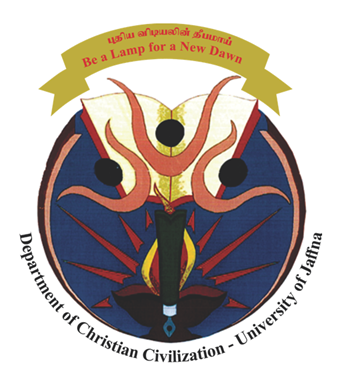 The Department of Christian Civilization at the University of Jaffna is one of the remarkable centres of teaching and research related to Christian studies in Sri Lanka. Christian Civilization is a discipline that comes under humanities which treats the origin, expansion and the important characteristics of Christian religion. It encompasses the scriptures, beliefs, practices, history, art, literature, morals and the contemporary trends of Christian religion, together with its interaction with other religions and other social, cultural, ethical and biomedical issues that affect the society. It will give a comprehensive view of Christian religion from its inception to the present day considering it as a civilization the permeated and responsibly influenced the history of humankind.
18 Dec. 2021: Celebration of Christmas at the University by the Department.
30 April 2022: Last day for the Submission of dissertation.
18 May 2022: Commencement of Online Classes for Year 3.
26 May 2022: Commencement of Face to Face lectures for Year 2 and 3.
06 June 2022: Commencement of Face to Face lectures for Level 1.